Description
Sanders Armory 13" Match Grade 6.5 Grendel (Type II) 416R Stainless Steel Barrel with Tapered profile with 1:7.85 Twist Rate with Carbine Length Gas and 5R Rifling.
U.S.-made and manufactured to MIL-SPEC specifications exceeding the ISO-9002 Quality Standard. Provided with a Limited Lifetime Manufacturer Warranty against manufacturers defects.
Specifications:
Brand: Sanders Armory

Caliber:  6.5 Grendel II 

Barrel Length:  13″ Inch Match Grade

Twist Rate: 1:7.85 Twist

Rifling process: 5R Button Rifled

Barrel Concentricity held to .002
Rifling Test: Air Gauged

Material: 416R Stainless Steel

Finish: Polished Stainless Steel

Inside Finish: Polished Stainless Steel

Barrel Profile: Tapered 

Gas System Length: Carbine-length Gas Tube

Seat Diameter of Gas block: .750 Gas Block

Gas Block Dimple: Yes

Crown Thread Pattern: 5/8 X 24 Thread Pitch

Barrel Crown: Single Point Cut Polished 11-degree Target Crown

Extension: M4 Nitride Coated

Feed Ramps: M4 cut Barrel extension

Weight: 1 Lb 8oz. 
What is 5R Rifling?
Retired Army man Barrett "Boots" Obermeyer developed 5R rifling as a gunsmith in his families store and holds a High Master Classification in both high-power rifle disciplines; he is a Distinguished Rifleman and has won numerous shooting awards at both state and national levels. The best definition comes from "Boots" himself …
"5R is the form of rifling I developed for use in most target barrels and many sporting barrels," he explained. "These barrels have five grooves, and the lands have angular sides. I have observed that bullet jackets will deform such that they remain closer to the R-form lands than they will to the sharp-edged lands present in conventional-style rifling. This reduces powder fouling at the corner of the grooves. The land's angled form also helps reduce jacket failures in quick-twist barrels."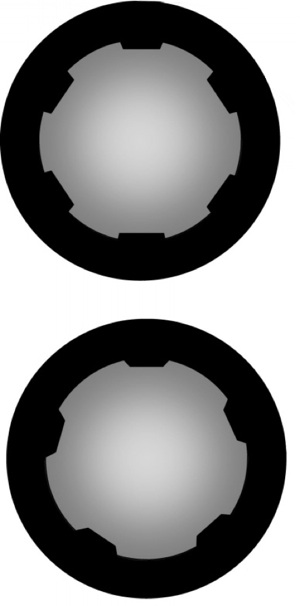 The diagram above of rifling profiles shows the difference between traditional rifling (top) and 5R rifling (bottom). Note that the edges of 5R are not square (they don't cut into bullet jackets as much) and that with 5R, the lands are opposite grooves, while with traditional rifling, lands are opposite lands, and grooves are opposite grooves.
SHIPPING LIMITATIONS:
NO shipping to District of Columbia (Washington, D.C.); Massachusetts; Connecticut; Chicago; Cook County, Deerfield, Highland Park or Aurora Illinois; New Jersey; New York; Puerto Rico; Hawaii; or Canada. NO international shipping. All must be within the 48 Contiguous United States. NO APO/PPO/FPOs.