Description
Grendel 6.5 Type 2 18" Straight Fluted Stainless Steel 416R Heavy Barrel with Mid-Length Gas, 1:8 Twist and 5R Rifling
U.S. made and manufactured to MIL-SPEC specifications exceeding the ISO-9002 Quality Standard. Provided with a Limited Lifetime Manufacturer Warranty.
Specifications:
18" length Barrel
5R Rifling
Straight Flute
6.5 Grendel Type 2 Chambered
1:8 Twist Rate
M4 Feed ramps
416R Stainless Steel, Heat Treated to RC 28-32 Hardness, and Stress Relieved
HBAR
Mid-Length Gas System
.750 Gas Block Acceptance
Barrel thread for Flash Hider or Muzzle break 5/8 x 24
What is 5R Rifling?
Retired Army man, Barrett "Boots" Obermeyer developed 5R rifling as a gunsmith in his families store and holds a High Master Classification in both high-power rifle disciplines, is a Distinguished Rifleman and has won numerous shooting awards at both state and national levels. The best definition comes from "Boots" himself …
"5R is the form of rifling I developed for use in most target barrels and in many sporting barrels," he explained. "These barrels have 5 grooves, and the lands have angular sides. I have observed that bullet jackets will deform such that they remain closer to the R-form lands than they will to the sharp-edged lands present in conventional-style rifling. This reduces powder fouling at the corner of the grooves. The angled form of the lands also helps to reduce jacket failures in quick-twist barrels."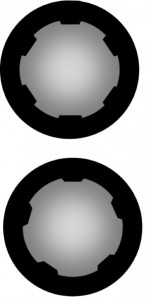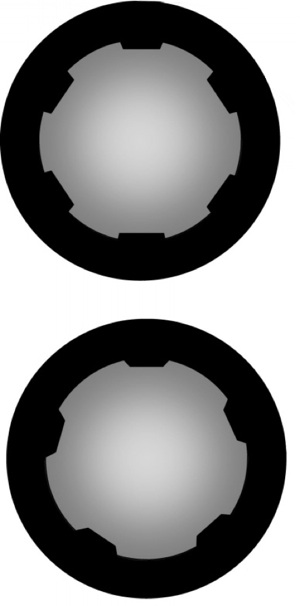 5R Rifling
The diagram above of rifling profiles shows the difference between traditional rifling (top) and 5R rifling (bottom). Note that the edges of 5R are not square (they don't cut into bullet jacket as much) and that with 5R, the lands are opposite of grooves while with traditional rifling, lands are opposite lands and grooves are opposite grooves.
NO shipping to Hawaii, Alaska or Canada! NO international shipping all must be within the 48 Contiguous United States! NO APO/PPO/FPO's, if you have family members here in the 48 US you can ship to them and they can make arrangements for shipping.